Despite the fame and fortune celebrities are just as human as the rest of us. These cases of celebrity tattoo removal are great examples.
At the time, that tattoo always seems like a great idea – and there's nothing wrong with that. In fact, it's impossible to hang out with cool, contemporary friends in 2017 without noticing just how popular 'tats' have become. In part, the ever-increasing popularity of seriously cool skin art is thanks to celebrities. Your favourite sports, TV, movie and musical heroes are more than likely to have a tattoo or two that you love, and tattoo artists consistently say it's a top reason us ordinary people decide to 'get inked'.
But just like us, sometimes celebrities change their minds and need to get that tattoo removed. Here are some top cases of celebrity tattoo fails:
1. Johnny Depp
The funniest case of celebrity tattoo regret is probably Johnny Depp. In the late 80s, he got 'Winona Forever' emblazoned on his shoulder – but the 'Forever' didn't exactly live up to the hype.
Solution: Simply and effectively remove the 'na' in 'Winona' so that his tattoo now reads 'Wino Forever'. Easy, clever and funny – and probably true.
2. Scarlett Johansson
This American actress actually hasn't had tattoo regret at all – but the same can't be said of one of her employers. The Lost In Translation star has three tats – a sun on her arm, 'I Heart NY' on her wrist, and cool circles on her ankle. But Dolce & Gabbana didn't fancy them when they retained Johansson for a lipstick campaign.
Solution: Airbrush! Scarlett Johansson's are not the only tattoos that magically disappeared for fashion campaigns.
3. Denise Richards
If the name doesn't immediately ring a bell, how about if we mention her ex-spouse, Charlie Sheen? That's right, this former Bond girl got Charlie's name emblazoned on her foot – but then they split and divorced in 2006.
Solution: There are plenty of stories out there of celebrity tattoo cover ups, and in Denise's case she got her ankle tattoo turned into a fairy. Sheen, meanwhile, opted to remove his 'Denise' tattoo on his wrist altogether. "Winning!"
4. Eva Longoria
Another actress with tattoo regrets after a split was Eva Longoria – and she helpfully documented her voyage back to a blank canvas on Snapchat! Eva got multiple tattoos relating to her ex Tony Parker removed, including a star on her wrist.
Solution: Laser tattoo removal! On SnapChat, as she let the numbing cream do its magic, Eva told the whole world: "I'm about to have these suckers zapped off!" And she really did.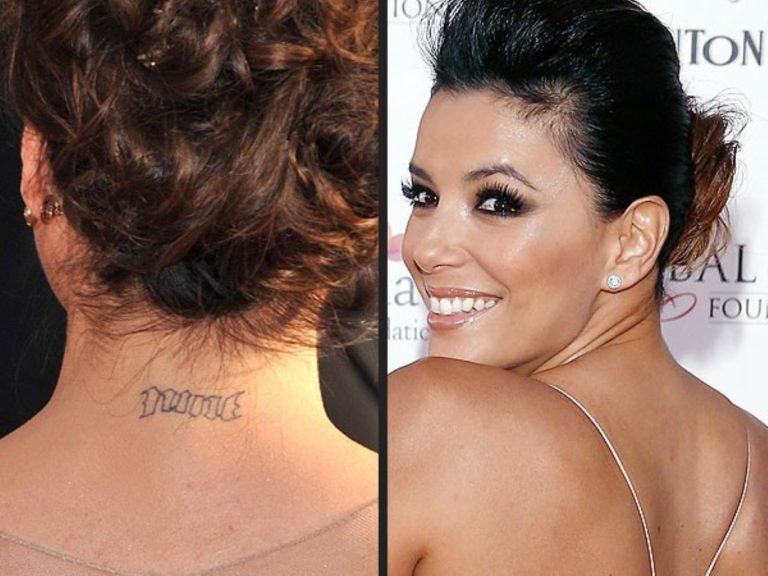 5. Melanie Griffith
Melanie was once happily married to Antonio Banderas – but like so many celeb hook-ups, it didn't last. She was left with a lovely love-hearted 'Antonio' on her shoulder. It wouldn't last, either.
Solution: Through the helpful work of the paparazzi, the world was able to see just how laser tattoo removal really works – slowly but surely. Over time, and a few laser tattoo removal sessions, the Working Girl's tribute to Antonio said goodbye to the world.
Do you know another celebrity tattoo removal story that made you giggle? Or perhaps your own tale you'd like to share? Let us know in the comments.
Just like your favourite celebs, you too can wave goodbye to tattoo regret with fast, safe and effective laser tattoo removal that is as pain-free as possible at Renude Laser Clinic in Sydney. Get in touch today to find out more.
https://renudelaser.com.au/wp-content/uploads/2017/03/celebrity-tattoo-removal.jpg
768
996
Dr Catherine MacInnes
https://renudelaser.com.au/wp-content/uploads/2016/10/renude-laser-clinic.png
Dr Catherine MacInnes
2017-03-14 22:49:52
2018-04-30 17:57:38
Celebrity Tattoo Removal: 5 Celebs Who've Had Tattoos Removed