Whether we admit it or not, we all love a celeb. And given the popularity of tattoos, we definitely love a celebrity tattoo. Despite the fame and fortune celebrities are just as human as the rest of us. And some funny celebrity tattoo removal stories are pretty much the perfect example.
At the time, that tattoo always seems like a great idea – and there's nothing wrong with that. In fact, it's impossible to hang out with cool, contemporary friends in 2017 without noticing just how popular 'tats' have become. In part, the ever-increasing popularity of seriously cool skin art is thanks to celebrities. Your favourite sports, TV, movie and musical heroes are more than likely to have a tattoo or two that you love, and tattoo artists consistently say it's a top reason us ordinary people decide to 'get inked'.
But just like us, sometimes celebrities change their minds and need to get that tattoo removed. Here are some top cases of celebrity tattoo fails:
1. Johnny Depp
The funniest case of celebrity tattoo regret is probably Johnny Depp. In the late 80s, he got 'Winona Forever' emblazoned on his shoulder – but the 'Forever' didn't exactly live up to the hype.
Solution: Simply and effectively remove the 'na' in 'Winona' so that his tattoo now reads 'Wino Forever'. Easy, clever and funny – and probably true.
2. Scarlett Johansson
This American actress actually hasn't had tattoo regret at all – but the same can't be said of one of her employers. The Lost In Translation star has three tats – a sun on her arm, 'I Heart NY' on her wrist, and cool circles on her ankle. But Dolce & Gabbana didn't fancy them when they retained Johansson for a lipstick campaign.
Solution: Airbrush! Scarlett Johansson's are not the only tattoos that magically disappeared for fashion campaigns.
3. Denise Richards
If the name doesn't immediately ring a bell, how about if we mention her ex-spouse, Charlie Sheen? That's right, this former Bond girl got Charlie's name emblazoned on her foot – but then they split and divorced in 2006.
Solution: There are plenty of stories out there of celebrity tattoo cover ups, and in Denise's case she got her ankle tattoo turned into a fairy. Sheen, meanwhile, opted to remove his 'Denise' tattoo on his wrist altogether. "Winning!"
4. Eva Longoria
Another actress with tattoo regrets after a split was Eva Longoria – and she helpfully documented her voyage back to a blank canvas on Snapchat! Eva got multiple tattoos relating to her ex Tony Parker removed, including a star on her wrist.
Solution: Laser tattoo removal! On SnapChat, as she let the numbing cream do its magic, Eva told the whole world: "I'm about to have these suckers zapped off!" And she really did.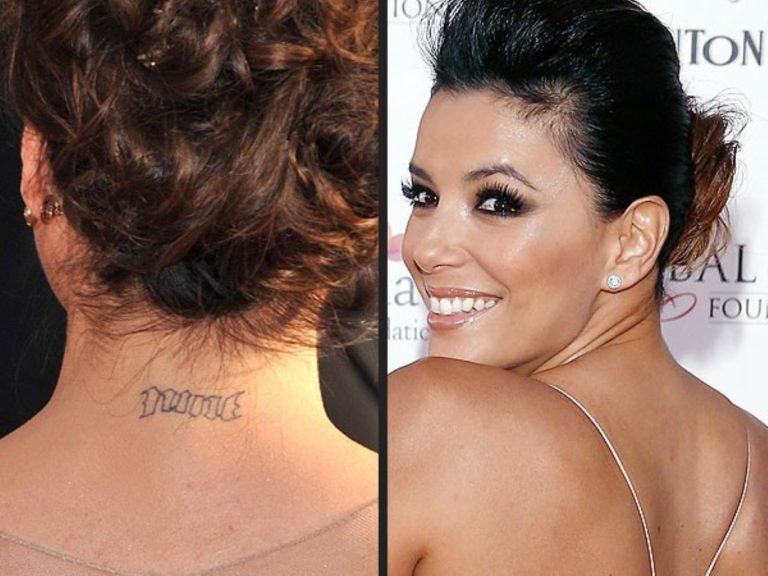 5. Melanie Griffith
Melanie was once happily married to Antonio Banderas – but like so many celeb hook-ups, it didn't last. She was left with a lovely love-hearted 'Antonio' on her shoulder. It wouldn't last, either.
Solution: Through the helpful work of the paparazzi, the world was able to see just how laser tattoo removal really works – slowly but surely. Over time, and a few laser tattoo removal sessions, the Working Girl's tribute to Antonio said goodbye to the world.
6. Megan Fox
As her name suggests, American actress and model Megan really is a Fox. And so she decided to pay an ink-tribute to another beautiful woman, Marilyn Monroe, on her forearm.
But then came the regret, and just like a candle in a stiff breeze, Marilyn started to fade. "It is a negative character, and I do not want to attract that kind of negative energy in my life," Fox said.
She kept a couple of other tattoos, though. One declares that "We will all laugh at gilded butterflies," while a Mickey Rourke tribute reads: "Those who danced were thought to be insane by those who could not hear the music." Laugh? Insane? We make no comment.
7. Angelina Jolie
Another beautiful Belle who wanted to scrub out a redundant tattoo is Angelina Jolie – and it's no surprise why.
Jolie was once married to Billy Bob Thornton – and it was just one of his no fewer than six marriages. So when Brad Pitt and Angelina became 'Brangelina', "Billy Bob' on her left shoulder had to go thanks to that magic laser.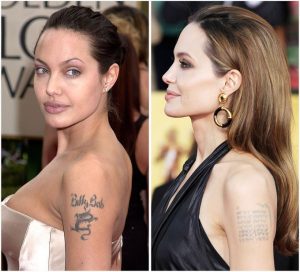 8. Mark Wahlberg
Once known as 'Marky Mark', Wahlberg was once a very wild child. In the 80s and early 90s, he was convinced of racial hate crimes, assault and even attempted murder – and did time.
At the same time, Marky Mark was getting inked – and they weren't great. Among them were Tweety Bird, Sylvester the Cat, Bob Marley, and some other horrors. But when he hit the Hollywood big time, he decided to zap them off – and he took his kids to watch the laser procedure as well.
"I only realised afterwards that it's not going to work," he said. "My mom told me not to get tattoos and I thought she didn't know what the hell she was talking about."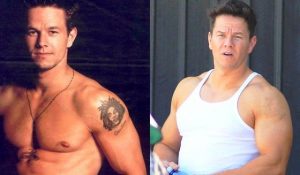 9. Kathy Griffin
We now know her as someone who posed with Donald Trump's severed head. But before that, she was an edgy comedian with a heart of gold who felt so good about marrying Matt that she got a wedding ring tattooed onto her ring finger.
… But she got divorced. "I tried to get it lasered off five times and it won't come off!" she lamented. Perhaps she should have jumped on a plane to Sydney and tried Renude's latest technology that is faster, safer, healthier, less painful and more effective on every single colour.
10. Johnny Depp
But hang on just a moment … Johnny Depp?! Didn't he feature as number 1 already in our celebrity tattoo removal list?
He sure did! But the guy just wouldn't learn – and so we're paying tribute to this silly-inked celeb with yet another case of Johnny's tat regret.
As a young man, he famously (and hilariously) got "Winona (Ryder) Forever" changed to "Wino Forever" on his shoulder. But when he was all grown up, he decided to tattoo "Slim" across his knuckles – the nickname for his then-wife Amber Heard. The only problem was that they bitterly divorced … so Johnny changed it to "Scum/Scam".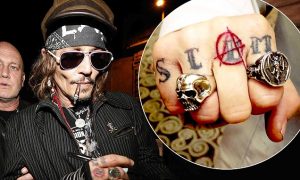 Do you know another celebrity tattoo removal story that made you giggle? Or perhaps your own tale you'd like to share? Let us know in the comments.
Just like your favourite celebs, you too can wave goodbye to tattoo regret with fast, safe and effective laser tattoo removal that is as pain-free as possible at Renude Laser Clinic in Sydney. Get in touch today to find out more.
https://renudelaser.com.au/wp-content/uploads/2017/03/celebrity-tattoo-removal.jpg
768
996
Dr Catherine MacInnes
https://renudelaser.com.au/wp-content/uploads/2016/10/renude-laser-clinic.png
Dr Catherine MacInnes
2017-11-24 02:49:52
2019-09-10 16:30:50
10 Celebrity Tattoo Removals & Cover Ups Revealed!